Introductions of orange Essential Oil Extraction Machine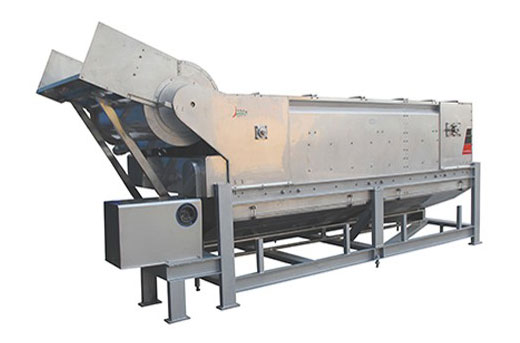 Orange essential oil extraction machine is designed carefully by using the ALFA method technology and combined with citrus varieties and characteristics. Orange essential oil extraction machine equips high-speed rotating needle roller and feeding scraper for pricking citrus oil cell in a useful way. Then, the high-pressure hydraulic gun for orange essential oil extraction can rush the orange oil into collecting groove, and then put orange oil into juice separator for separating oil and water.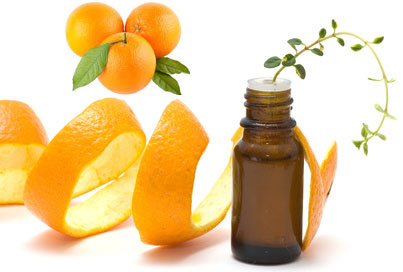 According to the market survey, with the improvement of living standards and pursuit of quality of life, orange oil products became a necessity in our daily life. It boasts a huge potential in market demand. Whether it is from the perspective of consumer groups, or from the business point of view, orange oil products have quite potential value of market development. So the orange essential oil extraction machine will be the key machine for orange processing industry in the future!
This equipment is also suitable for citrus, navel orange, lemon, grapefruit and other fruits.
After the processing of orange oil essential oil extraction machine, oranges can still be able to go into the next step to make orange juice by orange processing line.
Main Technical Parameters of orange essential oil extraction machine
| Type | Production capacity(t/h) | Boundary dimension (mm) | Motor power (kw) |
| --- | --- | --- | --- |
| TCM-1 | 3-5 | 3650*1100*1500 | 4.75 |
| TCM-2 | 5-10 | 5000*2300*2000 | 9 |
Working principle
Orange essential oil extraction machine adopts the principle of the combination of the high speed rotating needle roller and feed scraper .The fresh citrus fruits feed into the oil extraction machine by a bucket elevator after washing and cleaning. The rotating needle roller that inside the oil extractor will pierce the fruit skin to extract the oil, And then with water spraying device the water sprays will take out and collect the oil from the surface of the citrus, as oil-water mixture, and separate the oil out by separation procedure.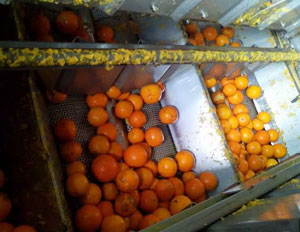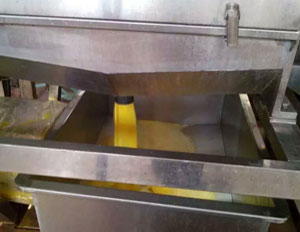 Main Features
Simple structure in linear type, easy in installation, maintain and operation.
Adopting advanced world famous brand components in pneumatic parts, electric parts and operation parts.
Running in a high automatization and intellectualization, no pollution.
Can work either independently or combined with other machines to be used in the orange juice processing line
Low waste and high oil extracting rate.