Introduction of grape grain screening line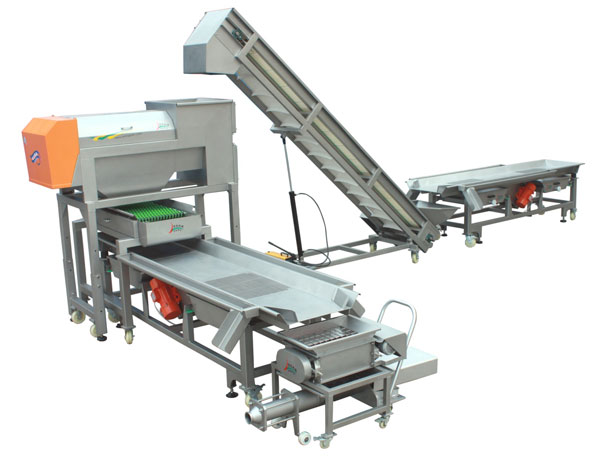 Grape is well known to be beneficial to people's health. It contains high nutritional value, and can be made into wine, juice and raisins, to satisfy the taste of different people. Our grape grain screening line is mainly used to process the integrity grain after taking off the stem, and meanwhile make sure the stem scrap, immature putrefaction are selected out by manual. The whole equipments are sandblasted on the surface which makes the machinery are top grade, grape grain screening line is an ideal pretreatment processing line for grapes to process into wine or juice.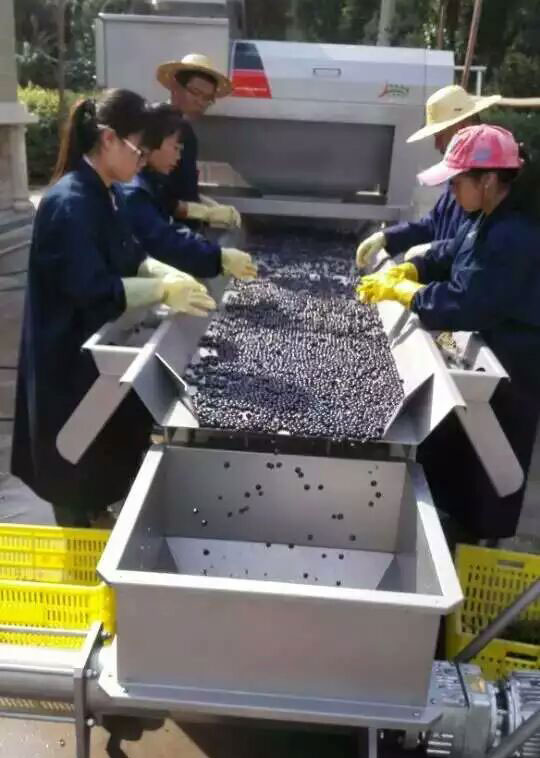 First Screening
This step is mainly used to select the light color cluster, immature grain, dry shrinkage cluster, leaf and branch by manual. After screening, the raw materials are fed into grape destemmer crusher for the next step.
Second Screening
After the stem was taken off, the grain was conveyed to the vibration separator, the dirt on the grain surface was taken off further by vibration, and meanwhile, residual stem, green grain, poor color grain was selected by human assistance. Then the grain was crushed and conveyed to the further processing.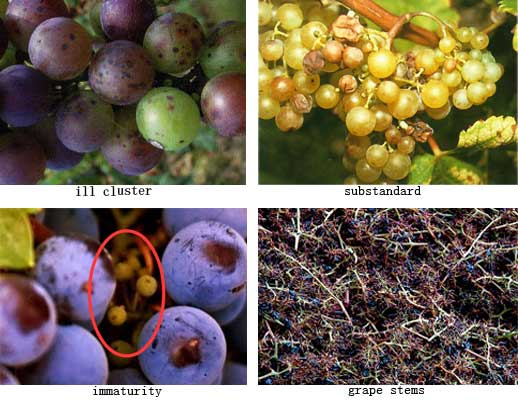 Notice
Not all grapes are suitable for screening, it better to select high quality and maturation ones to screening.
The effect of screening is not entirely related to screening equipment, it also relate to grape varieties, quality, maturation, picking time and areas.
Grape wine taste more fruity, mildly sweet after screening, and suitable for winery of production capacity under 100t per annum.
Practicality, economics, varieties and features of grapes must be taken into account during the choice of the screening equipment.
Grape Vibration Separator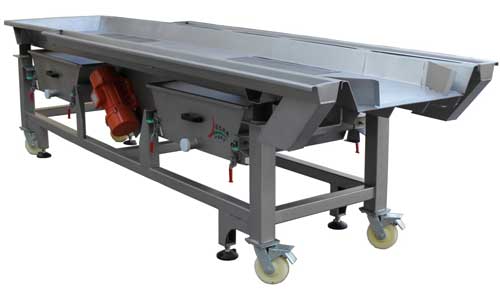 This machine is mainly composed of frame, mesh, vibration motor, discharge hopper and etc. Grape was conveyed along straight line by the principle of high-frequency vibration, there are two sets of fence plate and waste hopper which can slag and remove dirt automatically.
Advantages
Through the vibration, the grain can be put on the surface horizontal and transport the grains evenly.
It is convenient to pick out the substandard grapes, rot cluster, ill cluster and impurities among cluster by manual.
Grape vibration separator can remove the residual sand, stem, immature grain etc.
Technical Parameters
| Capacity(t/h) | Power(kw) | Size(mm) | Materials |
| --- | --- | --- | --- |
| 3-5 | 0.4(two sets) | 3500*1100*950(1200) | 304 stainless steel |
| 5-8 | 0.4(two sets) | 3500*1250*950(1200) | 304 stainless steel |
Hydraulic Type Scraper Hoist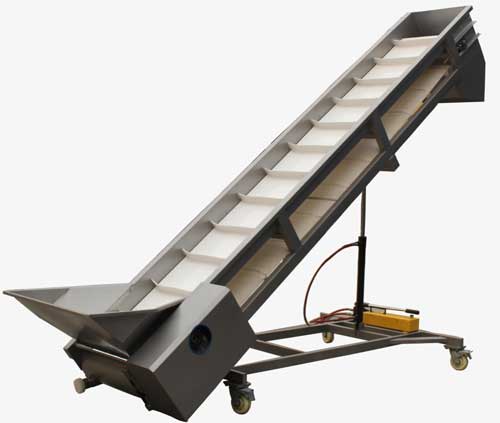 This device is mainly used to convey the first screened grape to the grape destemmer crusher. It adopts U type scraper, which prevent the materials drop or stack. Adjustable hydraulic manual support bar, can equip with different equipment in certain height range. Underneath type speed adjustable motor can improve device working stability. Add universal wheels, make machine move more convenient.
Technical Parameters
| Capacity(t/h) | Power(kw) | Size(mm) |
| --- | --- | --- |
| 3-5 | 0.75 | 3700*650*2660 |
| 5-8 | 1.1 | 3700*750*3000 |
Grape Destemmer Crusher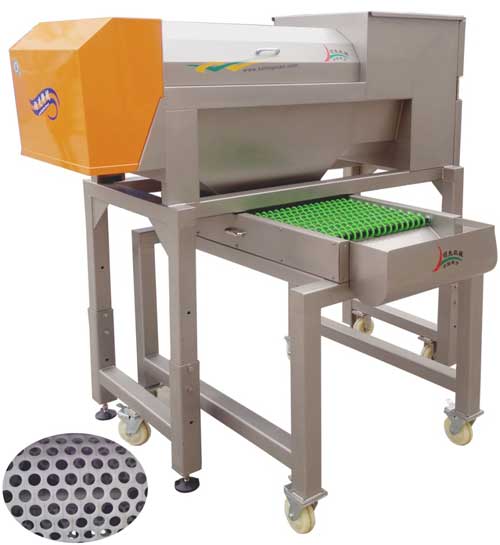 Grape destemmer crusher is the key and core machine of grape grain screening line. It is used to deal with fresh grape, to separate the grape from the stems and then to process the grape in order to get the juice which can be processed into wine. What's more, it can carry out the process of separate peduncle, destem, crush and pulp conveying to ensure the integrity of grapes. It is the proper choice of wineries. Our company supplies grape destemmer crusher according to your requirements.
Character
Adopts eccentric and adjustable except stem blade, maximum improve the rate of exception and integrity of grains.
Adopts nylon screen with the features of antiacid, alkali-resistant and resist corrosion.
Equip with wheeled separator, in the case of production capacity greater than 5 t/h
wheeled separator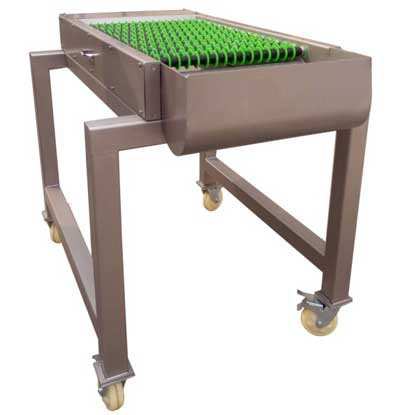 Wheeled separator is mainly used in the latter of stem excepting, small amounts of broken stem was taken off further under the friction of scroll wheel, which greatly reduces the labor force in the latter screening step.
Technical parameters of grape destemmer crusher
| Capacity(t/h) | Power(kw) | Size(mm) | Weight(kg) |
| --- | --- | --- | --- |
| 3-5 | 1.5 | 1800*900*1850 | 1000 |
| 5-8 | 2.2 | 1900*900*1950 | 1100 |
Broken Extrusion Device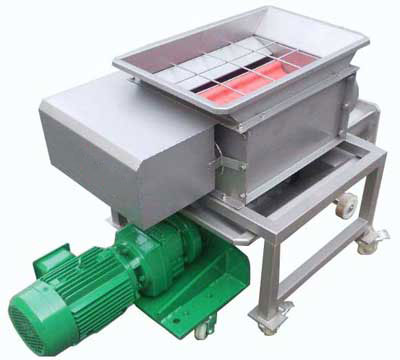 This device is used to crush the grape grain according to processing requirement, especially suitable for processing grapes with thicker skin. Usually it was equipped with a screw pump, and conveys the broken grapes to the next processing step.