Introduction of Mango Juice Processing Line
Mango is well- known as the king among the tropical fruits, it is rich in vitamin A which the content extremely high up to 3.8% and the content of soluble nutrient is 14-24.8%, what's more, mango contains all kinds of chemical elements which are helpful to our body.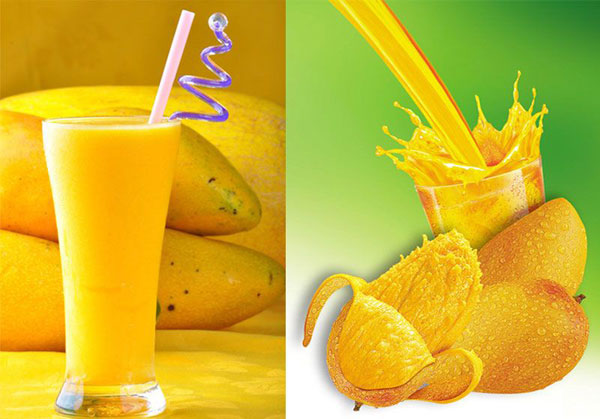 Mango juice processing line is mainly used to extract juice from Mango, and the production capacity ranges from 5t to 20t which can meet different requirements of the customers. The entire production process generally includes:
elevating> fruit selecting> brush type washing >peeling and destoning > pulping.



In this mango juice processing line, mango was selected and cleaned thoroughly before peeling and destoning, after that, they go into the
peeling and destoning machine
which is special equipment designed specially according to the characters of mango. After the equipment processing, we can obtain mango pulp, core and skin. Core and skin was conveyed outdoor, and pulp can be pulped and refined further according to clients' requirements.
Advantages of Our Mango Juice Processing Line
Large production capacity, ranging from 5t to 20t, suitable for the production requirement of large and medium-sized factory.
The mango need not selected by classification.
Adjusting certain parts of the machine can deal with different varieties of mango.
High pulp recovery, can reach up to 99.5%.
Our important peeling and destoning machine has the integrated function of peeling and destoning, without purchasing two machines.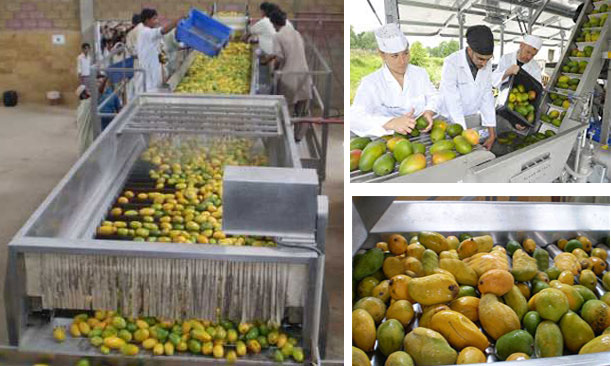 Main Equipments of Mango Juice Production Line
Pretreatment Equipment
Before the mango was peeled and destoned, it needs to make sure that fruits are cleaned and not decayed, so it needs special equipment for processing. The following are common pretreatment equipments to deal with mango; you can choose it on your actual situation.
Fruit elevator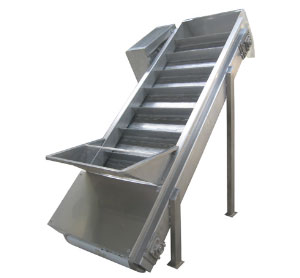 This fruits elevator is used in the low or high level lifting and conveying of fruit and vegetables. And mostly composed of bracket, bucket, motor and engineering plastics mesh belt.

Fruit Sorting Machine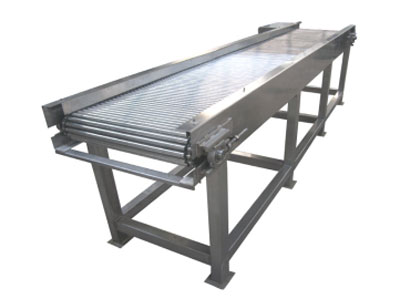 The stainless steel chain makes the tube moving revolution, and meanwhile the tubes rotates on the rubber track because of friction, so the fruits on the tubes will rotate freely, and the bad quality fruits will be picked up and separated manually.
Brush and Spray Cleaning Machine for Mango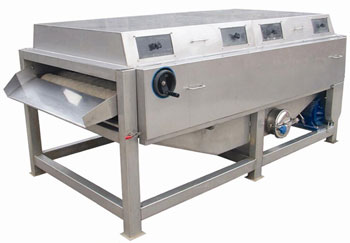 This machine is special equipment. It uses the food grade transmission and elastic brush cleaning, using the high-speed rotating brush with high pressure spray. Its cleaning effect is good, can thoroughly clean the stain on the surface of the mango.
Peeling and Destoning Machine for Mango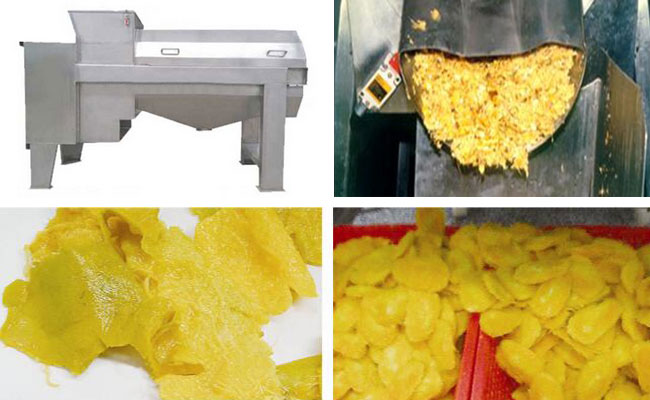 This machine is special equipment which is designed according to the characters of mango which the peel and core must be gotten rid of, so mango peeling and destining machine integrates the function of peeling and destoning. The pulp recovery rate can reach up to 99.5%, so it is ideal and advanced equipment to processing mango.
The machine can works either independently or combined with other fruit processing equipment, the production capacity of the raw materials ranges from 5t/h to 20t/h, to meet clients' different requirements.
Main parts of the machine are made of high quality stainless steel, and can easy cleaning and maintenance.
Working Principle
This machine is mainly composed by hopper, rotary screen, disengaging shaft, arranger, rack and shield. Materials get into separation device from hopper. The skins, seeds and pulp of the mango are separated under the function of disengaging shaft with high working speed. Then the skins and seeds are thrown away at the tail of the machine, and the pulp falls into the screw pump and is sent to the next process.
Technical parameters
| Model | Capacity(t/h) | Power(kw) | Size(mm) |
| --- | --- | --- | --- |
| LX-5 | 5 | 7.5 | 1900*800*1650 |
| MLX-10 | 10 | 11 | 2200*900*1750 |
| MLX-20 | 20 | 15 | 2500*1020*1780 |
Mango Pulping Machine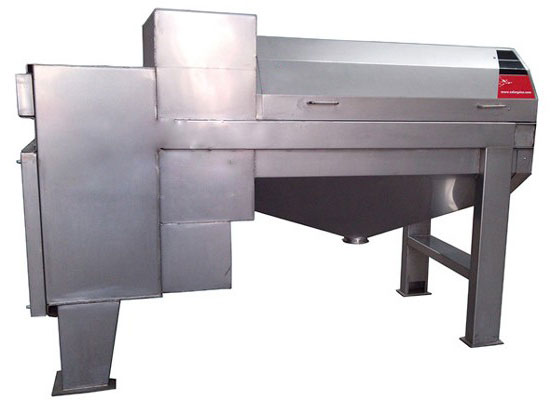 Mango pulping machine can separate juice and fruit slag quickly, and remove the kernel effectively with the international advanced technology. Because this machine is working in fully enclosed state, so it can reduce the oxidation of the juice, and maximize reserve the taste and nutrition of the raw materials. The content of the solid in juice and humidity of the peel slag can be adjusted.
Technical parameters
| Model | Capacity(t/h) | Power(kw) | Size(mm) |
| --- | --- | --- | --- |
| LX-3-5 | 3-5 | 7.5 | 2000*750*1300 |
| LX-5-8 | 5-8 | 11 | 2250*800*1450 |
| LX-8-10 | 8-10 | 15 | 2569*1000*2042 |
Juice fine filter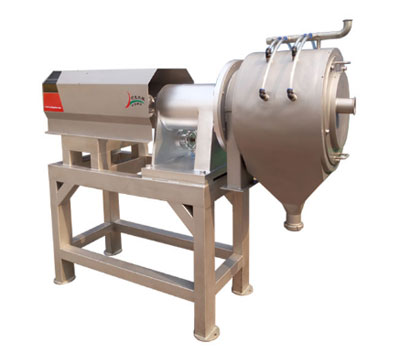 Introduction
Juice fine filter is mainly used to refine the juice further with high-speed centrifugal principle, smash the pulp dimension under the 0.8 mm, so it convenient to concentrate or fermentation in later.
Technical parameters
| Capacity(t/h) | Power(kw) | Speed(r/min) | Size(mm) |
| --- | --- | --- | --- |
| 3-5 | 18 | 2950 | 1800*580*1900 |
| 8-10 | 22 | 2950 | 2200*680*1900 |