Cucumber juice helps in boosting immunity. It cleanses the body by removing toxic. As it contains nutrients like vitamin c, vitamin k, iron, magnesium, calcium etc which helps to maintain overall health.
Here are 10 reasons you need to start drinking cucumber juice
Promote weight loss: "Fresh Cucumber Juice is a powerful antioxidant that boosts metabolism and leads to weight loss." "low calorie levels-it's a good choice for people who are weight conscious." Because of its high water content, it can increase the body's moisture and flush out toxins.
Relieve constipation: "Fresh Cucumber Juice is a natural laxative for the treatment of chronic constipation."
Boost immunity: "Fresh Cucumber Juice provides the body with lots of minerals, hormones and compounds that help protect the body from disease," experts say. It contains antioxidants and protects you from seasonal infections such as viruses.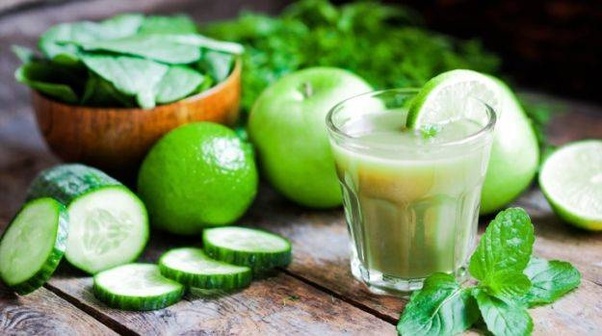 Detoxify your body: "because of its high water content, fresh Cucumber Juice cleans the body by removing toxic and old waste. It's a powerful detox drink." Experts said. You can also pair it with lemon and mint for better results.
Boost energy: "Fresh cucumber juice provides good nutrition and is an excellent source of vitamins B. Vitamin B deficiency often leads to fatigue, irritability, and inattention. Drinking fresh cucumber Juice ensures that your body gets these vitamins and makes you feel energetic.
Improve sleep: "Fresh cucumber juice calms your nerves and reduces anxiety and stress. Therefore, it helps to improve your sleep cycle
" Because of the high water content of the cucumber juice , it can serve as a coolant." Says Dr.Shalini Manglani, a nutritionist in Delhi." It can help people who are overwater and wonderful in the hot summer .
Improve your eyesight: "if you want to improve your eyesight, you can drink Fresh Cucumber Juice." According to many studies, it has proved to be one of the most useful and natural ways to treat vision.
Promote hair growth: cucumber juice is very beneficial to hair. It contains silicon and sulfur, which can prevent hair from falling and promote hair health.