In my country, now is March, there will be many fruits go into the mature period. And it is well known to everyone that eat fruits and drink fruit juice have many advantages to our body. Such as help the regeneration of cells to prevent the physical aging, protect the body from some diseases such as cancer and heart disease, help to lose weight and clean your intestines and stomach, etc. And before we talked about eating fruits and drinking fruit juice, people have different appetites. Some like eating fruits directly, while some like drinking fruit juice, there is a reason that people prefer to drinking fruit juice is that fruit juice is cheaper than fruits. Here I want to explain the reasons. Why is the price of fruits much more expensive than fruit juice?
First, fruits are expensive because in the markets, fruits are aesthetically attractive than fruit juice. Such as there is no bug, no bruises or bird bites on the surface of fruits. What's more, fruits are uniform and have attractive colors. While for juice, the appearances make no difference as they're going to be peeled and pulverized to make the juice. For example, if an apple falls from the tree to hit the ground, then it may not be in the display at the market because of the bruises. But when making into apple juice with hydraulic vertical juicing press machine, there won't be any difference just by getting rid of the broken parts, it's going to get far harsher treatment before it ends up in a bottle.
Second, the growth periodicity is different. As for fruits, there is a long time for them to grow. People must pay much attention to take care of them. However, juicing fruit into juice just need a set of fruit juice machinery or fruit juice production line, as long as the machinery is ready, juicing fruits can in prodigious quantities.
Third, there must be many focus on the fruits, for example, maybe you find the fruits are sold in the market with uniform, unblemished skins, that's because people specialized in keeping the fruit looking beautiful, a matter of course that these fruits are more expensive than not doing so and the juice.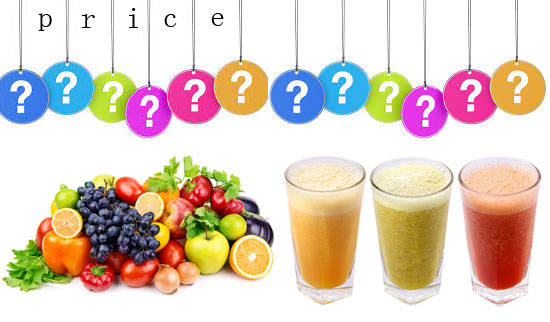 Fourth, it must be put into consideration is the issue of seasonality. Fruits are sold in the markets all the year, but some are imported from other countries or other places, which will add the expense. While fruit juice machinery take advantage of the season by making juice. You can make juice anytime when there are plenty of fruits. This enables it to be held for use when the fruit is not in season. Economies of scale come into play here, as well as international price differentials.
Fifth, the cost of transport and storage of fruits are much higher than the price of fruit juice. Fruits are much harder to transport and store and they have a limited shelf life. Nevertheless, juice can last a long time if properly processed. On the side, fruit juice is way easier to brand, and therefore to advertise and sell than fresh fruit.
So, all in all, there are different advantages for fruits and fruit juice, but with regard to the price, fruit juice is cheaper than fruits. So, if you want to begin the business of fruit juice processing, please just do it. AGICO will offer you the professional machinery with reliable quality and favorable price. Please contact us now!