Why fruit washing machine is necessary?
Fruit washing machine, also called fruit washer, is mainly used to wash fruits and vegetables. When making fruit or vegetable juice, clean fruits are essential to the health. What's more, in the
fruit juice processing line
, there maybe abundance of fruits waiting to wash, so just depending on the hands of workers is not enough. There must be the fruit washer to finish the mission of washing.
AGICO supplies fruit bubble washing machine and brush and spray cleaning machine, which adopt high quality stainless steel materials and mature structure to achieve high cleaning efficiency.
Our fruit bubble washing machine and brush and spray cleaning machine is suitable to wash various kinds of fruits, such as apples, oranges, mangoes, lemons, pineapple and etc.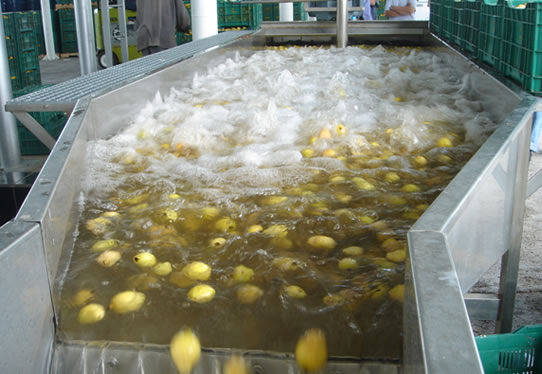 significance of fruit washing machine maintenance
As the very important equipment of fruit juice processing line, fruit washing machine can save energy and time and can guarantee the cleanness of fruits and vegetables. But any machine can't be operated all the time, we need to maintain it on time to maximize its efficiency and prolong the lifespan of the machine. In addition, frequent maintenance is conductive to extend the service time of the washing machine. But how to maintain fruit washing machine? How to guarantee the proper performance? Here are some simple suggestions for you to refer to.
The adjustment of chains
You can test the tightness of two chains by pressing the middle of the chains with your fingers. But remember to do this after the electric motor stops. Generally speaking, in the normal circumstance, the elastic range is between 4mm to 9mm. once the deformation is beyond the standard values, you should adjust the idle gear to the regulation tightness.
The maintenance of transmission
First and important, you need shut down the drive motor, then remove the inspection plug, to inspect, refuel or replace transmission gearboxes. If there is shortage of oil, please add oil to make sure the proper functioning. Ensure all these procedures are operated under no smoking condition.
Adjustment of belt
This is similar to the adjustment of chains. Put your fingers on the belt and press it after the electric motor stops. The standard compress range is between 7mm to 12mm. if it is out of this data, you should adjust the idle gear to standard tightness.
Long-term preservation
We know that fruits have the feature of seasonal, so when there aren't enough fruits to process for the fruit juice processing line. The fruit washing machine will be lay aside for a long time. In this situation, you'd better wash the dirt off and wipe up the machine. Make sure every part is clean. Remove debris attached to the belts and chains. What's more, oil the components fully to escape rust.