Introduction of pomegranate peeling machine
Pomegranate peeling machine is a kind of pre-treatment machine which can peel pomegranate. It is significant machine in the pomegranate processing line. It's necessary to get rid of the granatum before making pomegranate juice. Not like other fruits, the granatum must be peeled due to the feature. It will destroy the flavor of pomegranate juice if we don't remove the peel of pomegranate. Thus pomegranate peeling machine is essential.
Pomegranate peeling machine is innovative product which is produced by our company according to the advanced technology from Italy with the excellent performance. Through continuously research, now it has developed to the third generation. Not only can peel pomegranate, but also pomegranate peeling machine can process other fruits, such as apples, oranges, litchi and so on.
Just based on the name, we can know that this pomegranate peeling machine is used to get rid of the granatum quickly, thoroughly and intactly. The main features and advantages of our pomegranate peeling machine are of high production, high juice yield, easy to operate, low tannin content to guarantee flavor and etc. simultaneously, can make sure the peel and capsule dressing to be intact.
AGICO pomegranate peeling machine has been got many patents. In 2005, our machine passed the Appraisal of Scientific and Technological achievements. In 2006, it received Provincial Third Prize of Scientific and Technological Advancement Award, and Provincial Third Prize of Agricultural Technology Extension Award. So if you are interested in our pomegranate peeling machine, don't hesitate, we can guarantee the quality and effects.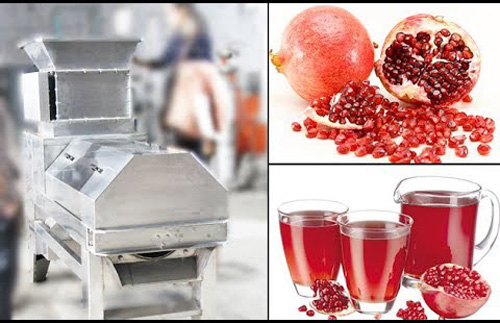 Pomegranate peeling machine structures
Pomegranate peeling machine consists of feed hopper, breaking device, mixer shaft, screw pump, rotating sieve and etc. except the driven parts, all the other parts are made of stainless steel.
Working principle of pomegranate peeling machine
Put the pomegranates into the upper breaking device through the feed hopper and are pressed, generally, the space between the two rollers is 20mm.
After pressing by the upper breaking device, the parted pomegranates enter the below breaking device. And the pressing will happen once again, this time, the space between the two rollers is 10mm. Through the twice pressing, the peel is basically separated from the seed.
The separated pomegranates drop into the separating equipment. Then the mixer shaft will come into play, make the seeds drop down from the sieve holes and peels are discharged from the after.
Last, the seed and juice are transferred to the next step of pomegranate juice processing line by screw pump.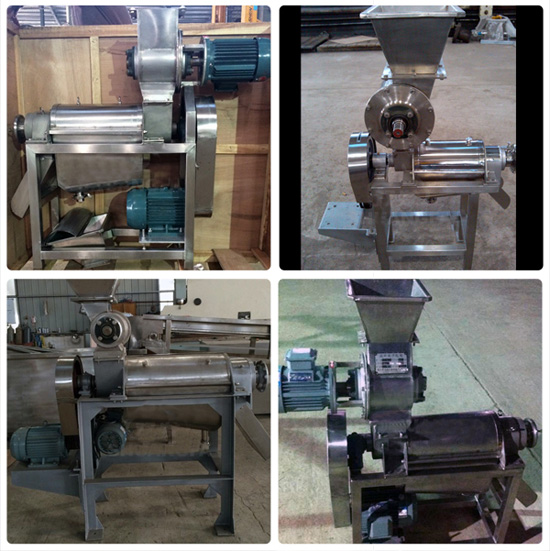 Specifications of pomegranate peeling machine
| Model No. | Production Ability | Motor Power | Turning Speed(r/m) | Screen Diameter(mm) | Dimension | Weight |
| --- | --- | --- | --- | --- | --- | --- |
| LXSLBPJ-3 | 3t/h | 8.1kw | 9.4 | 400 | 1600*1200*1800mm | 858kg |
| LXSLBPJ-5 | 5t/h | 15.5kw | 16 | 770 | 1800*1300*2200mm | 1588kg |