As the name implies, fruit juice extractor machine is used to extract juice from different kinds of fruits. with the same working principle, fruit juice extractor machine processes fruits into juice, which is convenient and nutritive. Almost all the fruits can be extracted by fruit juice extractor machine, such as apple, pineapple, pear, orange, grape, strawberry watermelon, lemons, tomatoes and so on. So if you have fruits, please put into consideration of owning a fruit juice extractor machine.
Fruit juice extractor is also known as spiral slag juice machine, slag spiral fruit and vegetable juice machine, fruit and vegetable beater crusher and so on. The raw materials must be uniform, non-rigid foreign matter into the hopper, which will not to damage the screen.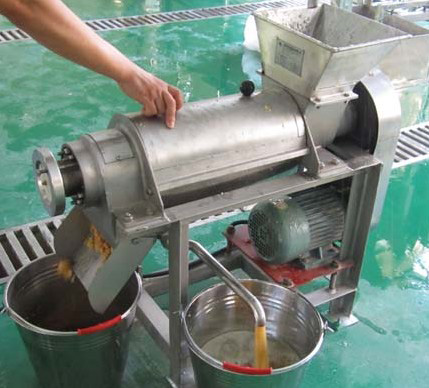 Characteristics of AGICO fruit juice extractor machine
Compact structure, elegant appearance and advanced design.
Our extractor machine combine crusher and spiral juicer together, automatic completion of crushing juice and slagging process.
Large production capacity and high yield of juice due to the use of conical screw.
It has low noise, high efficiency and no pollution to the environment.
The parts contact with the feed directly are made of stainless steel.
Working principle
The raw materials are put into the hopper, then extracted under the screw, the squeezed juice goes into the bottom container through the filter, at the same time, the waste is discharged by an annular gap between the screw and the tapered portion. The diameter of the spiral screw ranges from Φ87.5mm to Φ175mm. And the power of motor is 1.5kw to 4kw. Each hour the extractor machine can process raw materials of 500kg to 1500kg.
Installation operation and maintenance
The machine must be installed horizontally and fixed with anchor screws. When start the machine, the pressure head should be adjusted to make the annular clearance reach, and then the gap gradually decreases. After the process requirements, the position of the hand wheel bearing seat can be fixed by the brake. After each work, the filter screen must be washed with water and brush. If the filtration of the fiber is more concentrated, the juice must be washed once every time, and the whole machine will be cleaned with hot water after the end of the squeeze.