Background
As we all know, with the improvement of living conditions and the rising of marketing demands for quality products, the requirement for all the machinery is more and more strict, fruit sorting machine is no exception. So if you have the demands of fruit sorting machine, it is important to choose the most suitable one. Here I will state my opinion, and hope to have some help for you.
What is fruit sorting machine?
Generally, fruit sorting machine is very important in the pre-treatment process of fruit juice. Before extracting fruit into juice, the procedures mainly contain fruit sorting process, fruit cleaning process, fruit washing process and fruit elevating process.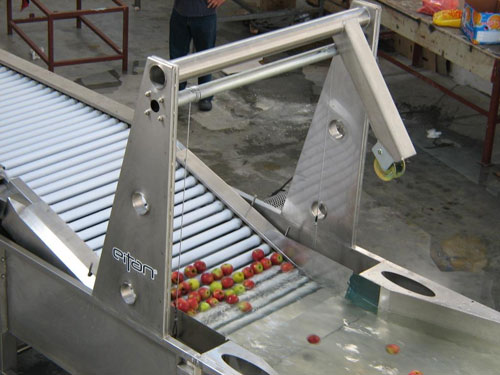 The purpose of fruit sorting machine is to transport, grade and sort of washed ball-shaped fruits of low quality according to special parameters, thus to guarantee the high quality of varieties of fruits, such as apples, pears, oranges, apricots, peaches, lemons, pomegranates, strawberries, mangoes, etc. In a general way, when fruit sorting machine works, it is necessary to pick out the unqualified fruits by manual. So when we choose fruit sorting machine, we should according to our real needs.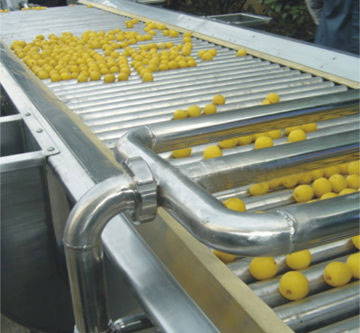 All the materials which touched with the fruits adopt food grade 304 stainless steels, which can prevent fruit from getting stuck of the machine. The speed is adjustable, with water spraying device adjustable by stepless. PLC full automatic control can realize frequency control and operate steadily. The maximum noise is no more than 800B. According to the structure, fruit sorting machine generally divided to roller type, link plate type and flat plate type to meet the various types of fruits. Consequently, the prior aspect you should consider about choosing fruit sorting machine is the materials.
Working principle of fruit sorting machine
The stainless steel shafts transport fruits forward evenly and simultaneously rolling themselves, thus fruits can rotate by 360 degree, which makes it easy for working staff to pick out the unqualified fruits. And then the waste and bad fruits finally be conveyed into the receiving tank.
Features of fruit sorting machine
Materials are top quality stainless steel, and the speed is adjustable by stepless.
PLC automatic control, fruits can rotate freely and stability on the roller.
Low consumption and easy operation.
Special and unique motor shield and oil collecting plate design can ensure the sanitary of the fruits.
It is no damage to the surface of fruits due to the smooth surface of the stainless steel shafts.
TICO fruit sorting machine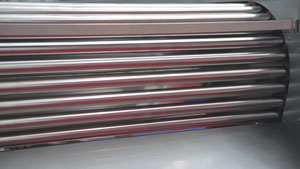 In our company, our fruit sorting machine possesses all the features of common fruit sorting machine, and we can offer one year warranty period and our technical support, you can purchase fruit sorting machine only or our fruit juice processing line. The quality of our products and services are the foundation of our cooperation and the key to the success of our customers. So we sincerely hope that we would have a long term cooperation and business relationship with you by heart.
As stated, we know the working principle and features of fruit sorting machine, in many cases, no matter what machines, we should choose in accordance with our real requirements, and then pay attention to the materials, production capacity and economic benefits, etc.